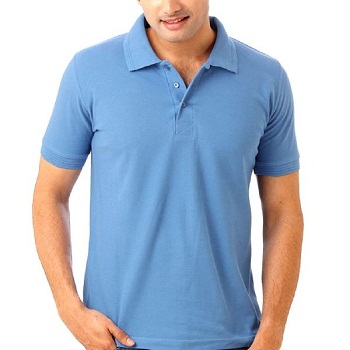 A collared T-shirt is a form of shirt with a collar, a placket neckline with two or three buttons, and a discretionary pocket. Collar t-shirts are usually short sleeved. In this article, you will come to know more about collar t-shirts.
Types of Men Collar T-Shirt
1) The Wing Collar:
The wing collar T-shirt is a more traditional and dressier alternative to the turn-down collars that are attached to most contemporary shirts.
This collar comprises a band with starched collar points that protrude outwards like wings, thus giving this style the name 'wing collar'. A perfect choice for black-tie dress codes, evening wear and formal white-tie dress codes, this is one of the various sorts of collars on men's shirts that express a high-fashion, stylistic appeal.
2) The Point Collar:
The most familiar of the lot, this collar is distinguished by its pointed tips. The collar spread is minimum – max 3.5". Thus, this is a perfect collar for traditional office ties, as it does not uncover the folded edges of the tie and assists it stably sitting on the neck.
When worn under a blazer or a jacket, the points of these kinds of collars do not get covered by the lapels. A point collar has medium stiffness and is a work wear favourite.
Style File:
The world of fashion is your oyster when styling this adaptable collar. Ideal for covering neck-ties and scarves, try juxtaposing this collar with a contrasting tie in a statement colour for a chic look and bold appeal. You can also put on this shirt buttoned-down, on its own, for a more laid-back and casual look. The choice is yours!
3) The Spear Collar
The 'spear' collar is a retro version of the point collar and gets its name from its lengthened, pointy, spear-like collar points.
Because of the collar point length of these kinds of collars, they work very well under blazers and other formal jackets as the points get completely covered by lapels. These collars are making quite the comeback of late, thanks to their beautiful appearance and vintage appeal.
Style File:
Out of all the various shirt collars discussed here, we love this one for its currently trending retro vibe! You can amp up the nostalgic appeal of this collar by opting for one that's in contrast – in pattern or colour – with the rest of the shirt.
4) The Club Collar:
Another vintage classic that is acquiring popularity in today's fashion cycle is the club collar.
These kinds of collars were famously worn by high-profile students at England's prestigious Eton College and are religiously worn on the campus as a preppy accent even today..
Style File:
Educe ultimate menswear nostalgia by wearing this collar under a sweater vest and accessorize with a chic beret hat. Unique and formal, you can style these types of collars for all sorts of events and give your style quotient a dapper upgrade.
There are numerous Men Collar T-shirt Suppliers in India offering an enticing men's collar t-shirts collection in the textile market. Men's t-shirts are in high demand because of their availability in a wide range of fits, designs, and styles. These men's collar t-shirts are famous as they are long-lasting and of high quality.